How to Purchase High-Quality CMC Common Mode Chokes
The quality of the CMC common mode chokes you use determines the quality of the final product. The failure of a low-quality single component will affect the use of the entire product. High-quality components will improve the durability and reliability of the product, and will be widely praised by customers. Therefore, when purchasing
common-mode chokes(
CMC
)
, it is important to put quality at the top of the checklist.
SAT Amorphous
has many years of experience in the design and manufacture of common mode chokes. Whether manufacturing or sales, we put the quality first. Based on our many years of experience in the industry, when purchasing any new components, it is not enough to JUST select a supplier. Research and identification are also needed. Check whether the supplier meets the relevant quality standards. Therefore, the following points can be used to evaluate suppliers:
1. Supplier background investigation: Don't just listen to the supplier's words. It is important to conduct background checks on suppliers. After all, once the supplier meets the requirements, you will continue to cooperate with that supplier for decades.
2. Supplier reliability audit: You must ensure that the supplier you choose has relevant quality assurance and quality control procedures.
3. Relevant certification of supplier products and factories: It is the safest way to avoid cooperation with uncertified and unlicensed suppliers. Some important certifications that suppliers need to have include:
ISO 9001 Certificate/ ISO 14001 Certificate/ OHSAS 18001 Certificate
*SAT Amorphous has all of certifications above.
4. Supplier costs: Some suppliers have higher costs due to production processes. When checking costs, it is more important to see how the supplier disposes of waste materials. SAT Amorphous has a complete production process from raw materials to finished products. Therefore, the
ZERO-WASTE
method can eliminate the waste of raw materials and waste materials, thereby reducing costs. At the same time, quality will not be sacrificed because of cost.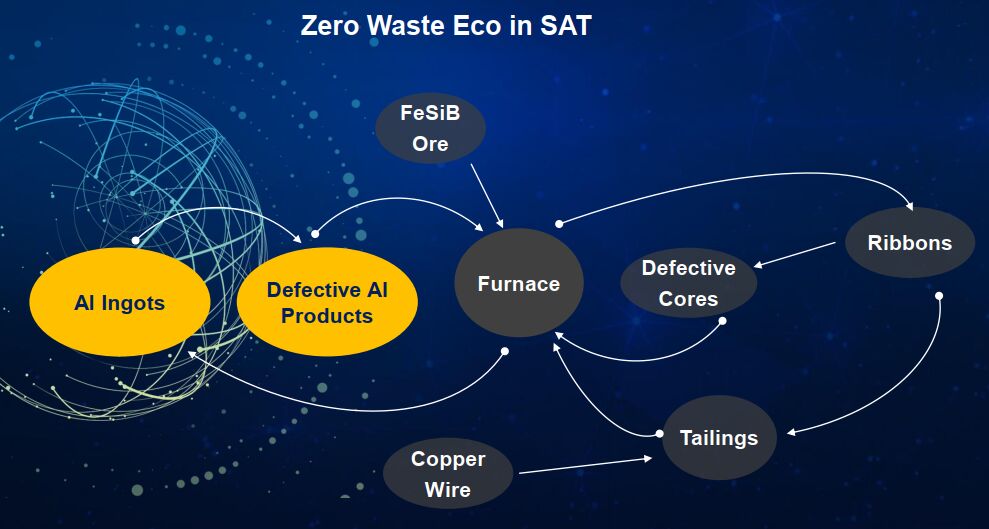 SAT Amorphous Zero-Waste Process
5. Supplier delivery time: Since components need to be delivered on time, it is necessary to understand the supplier delivery time. SAT Amorphous will confirm the delivery date with the purchaser to ensure the product can be delivered on time.
If you are looking for more information about SAT Amorphous please click here right away.