The Application of Nanocrystalline Inductive Components Nowadays and In The Future
Due to the excellent performance of soft magnetic materials and their unique combination, nanocrystalline materials have become more and more important, mainly reflected in the further improvement of future advanced power electronic systems. Applications such as energy generation and distribution, energy measurement and management. Compared with the existing conventional soft magnetic materials, the use of nanocrystalline cores makes these applications more efficient, reliable, portable, compact and smart. Nanocrystalline cores and components are playing a more important role in global smart grid projects.
Application example 1:
ELCB
ELCB was equipped with Permalloy (NiFe) cores many years ago. In recent years, more and more NiFe magnetic cores are being replaced by nanocrystalline cores. Since the penetration rate has doubled and the volumn has been reduced by nearly half, the cost of the solution has been reduced to about 50%.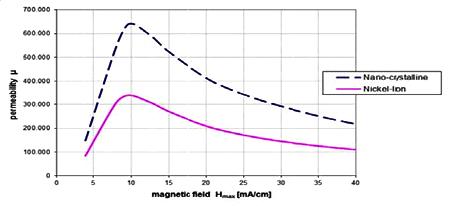 Application example 2:
Common Mode EMC Filter Chokes
For many years, common mode filter chokes equipped with ferrite cores. Due to its significantly higher permeability, nanocrystalline core materials can reduce weight, size and core loss by 50% or more.
Application example 3:
EMC and Bearing Current Protection
The application of inverter-driven surface generator or motor bearing current will greatly shorten the service life. The nanocrystalline core is used as a single-turn inductor, which can effectively solve the problem.
Application example 4:
High-Voltage Gas Insulated Switchgear (GIS)
Compared with 50Hz AC HV line, UHV DC power line has only 5% transmission loss, and 50Hz AC HV line is the most important characteristic of long-distance line. The nanocrystalline core can provide protection for the IGBT in the HV cascade, which works at 800kV, up to 1,2 MV.
Application example 5:
High-Voltage Gas Insulated Switchgear (GIS)
When combined with the UHVV DC line (Example 4), the nanocrystalline core will attenuate the destructive high-current RF transient pulses in the GIS, thereby destroying the insulation system of the grid components.
Application example 6:
Smart Meter (Watt-Hour Meter)
Most household and industrial watt-hour meters are equipped with current transformers for each phase. Nanocrystalline cores provide unique linearity in a wide range of temperature and magnetization at a moderate price level.